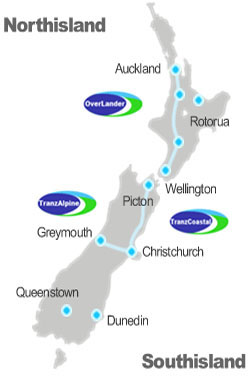 Train travel in New Zealand is simply magic

Each of the three scenic passenger rail journeys in New Zealand are unique, with views from the Northern Explorer train showing you diverse countryside of the North Island - towering viaducts, spectacular gorges, hidden valleys, to the rugged coastline of the South Island, seen from the Coastal Pacific train to the mountain alpine scenery from the TranzAlpine train.

Sit back, relax and enjoy some of the finest scenery in the world.

Travel in air conditioned, centrally heated, carpeted carriages that have advanced air bag suspension system for quieter and smoother travel, un-tinted, non-reflective, panoramic side and roof windows to capture the dramatic coastal and mountain views, GPS triggered journey commentary in five languages at your seat via headphones, plus information displays, overhead HD video and onboard washroom facilities.

Seating is comfortable '2 Seat-Aisle-2 Seat' reclining seats with head rests or 'Table Group' (4 people around a table) seating - great for families, small groups or to meet new friends.

For mobility-impaired passengers, there are spaces for wheel chairs and a disabled public toilet with wheelchair hoists provide access to the café carriage from track level. For hearing-impaired passengers - a hearing loop covers all of the café carriage saloon and serving area.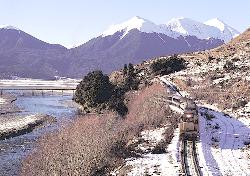 Your friendly onboard train crew is there to provide assistance to make your travel an enjoyable experience by pointing out scenic highlights and provide a little historical and cultural background on the places you travel through.

All long distance passenger trains have a café carriage serving a range of snacks, light meals and non-alcoholic/alcoholic drinks and an open air viewing carriage.

All long distance passenger train services operate as non-smoking 'One Class' services.

You can explore New Zealand with a Scenic Rail Pass that allows you unlimited travel on New Zealand's long distance passenger train network including ferry travel between Wellington in the North Island and Picton in the South Island, at you own pace, at any time in any direction. You can choose your own route, stop when you like, and travel as many times as you wish within the validity of this flexible pass - hop on and off where and when you wish or choose from a range of suggested rail pass travel itineraries.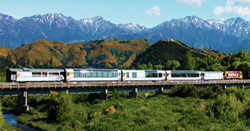 Alternatively, you can use a Scenic Train and Bus Pass, that allows you to travel on New Zealand's long distance national passenger rail and bus travel networks at you own pace, at any time in any direction, including ferry travel between the North and South Islands between Wellington in the North Island and Picton in the South Island and travel on modern buses and coaches to other tourist destinations, like Queenstown, Milford Sound, Mt Cook, the beautiful Bay of Islands and the thermal region of Rotorua to name a few destinations plus travel on New Zealand's long distance passenger train services and selected sightseeing tours.

Both Scenic Rail Passes are designed for the independent traveller whether its individuals, families or small groups who wants to get the best out of their New Zealand holiday and experience the true beauty and benefits of train and bus travel and provides genuine savings off the standard adult fare - so the more you travel the better the value.

There are no over night long distance inter-city passenger train/rail services in New Zealand.

So come and join a scenic kiwi rail journey and experience New Zealand's unique beauty by train.